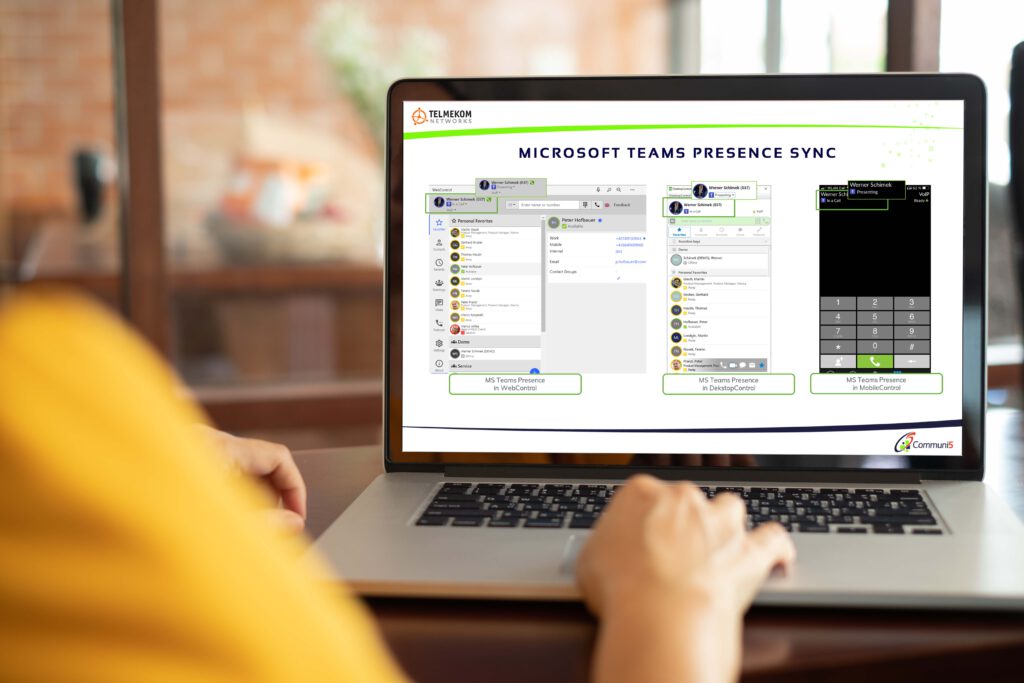 Telmekom is pleased to announce that, in collaboration with Communi5, they have expanded their CloudPBX solution by adding the function "Microsoft Teams Presence Sync".
As the leading communications provider in South Tyrol, Telmekom sees this new function as a real added value for users. Microsoft Teams has increasingly become the standard for collaborative work in enterprises, who have declared it their goal to make things as easy as possible for users by integrating Teams into their telephony systems. Accordingly, Telmekom was very enthusiastic when the Austrian manufacturer of the UCaaS solution integrated a presence sync based on a new OpenAPI component. The big advantage here is that the software prevents any interruption once a user changes their presence status in Teams. This is done using a call forwarding function, for example, to stop any further calls during Teams meetings or normal phone calls. An automatic sync with the user's Outlook calendar provides the PBX's attendant console with the information needed to forward these calls to the desired target.
After the successful completion of initial tests, Telmekom began to market the solution. As Sergio Vemic, CTO Telmekom said, "We now offer different types of telephony integration for customers who want to use Microsoft Teams. Our Communi5 Cloud PBX enables everything needed to meet the current requirements of a business customer, from simple "direct routing" to full presence/status integration. We can cover every use case with a hybrid model with Teams, from simple telephony to high-performance PBX functions".
A brief list of the advantages of the new presence integration:
• Synchronization of presence status between Teams and the Communi5 Cloud PBX
• Status display in the Communi5 Call Center
• Presence Integration does not require "Microsoft Direct Routing" or any additional Microsoft Phone licence
• Optional call forwarding during Teams calls
• Flexible assignment of presence status for different types of collaboration
"Presence Integration allows us to offer almost all possible types of Teams integration in a cost-efficient manner. Companies that want to use the high-performance collaboration functions of Teams without foregoing the full set of PBX functions will find our Voice Application Server to be the ideal solution," assures Martin Grech, Communi5 product manager.