With the release of our Voice Application Server Version 7.1 there is again a lot to discover.
In addition to significant extensions to the cluster architecture, the software offers a number of new functions with regard to soft clients, the integration of new telephones and general server functions.
A highlight of the version is that the software now supports WebRTC as well as SIP. As the first application based on WebRTC, the 7.1. offers the so-called web widget:
o With the web widget, functions such as a "Call me" button can be built into your homepage: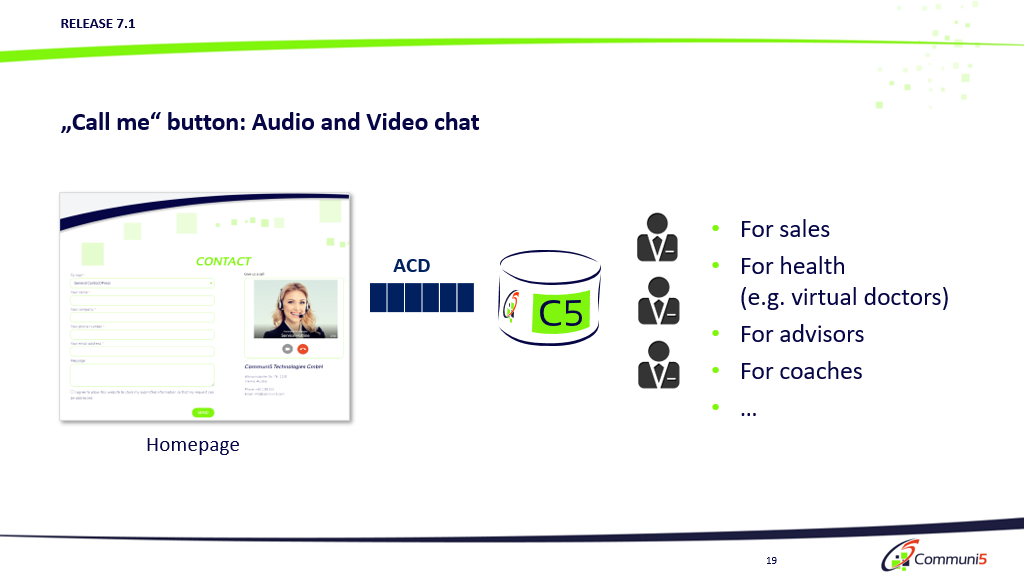 Your customers can easily get in touch with e.g. your sales or service employees via the website by voice and / or video call. The function can be coupled with the integrated call center function in order to work with it even more efficiently.
WebRTC and the web widget are already the first harbingers of the new collaboration function, which will be released in the next software release.
Here is a summary of all the new features:
Architectural improvements

N+1 Scaling Option for Cluster
Notification Server is now a separate Service

Web widget – Add a "call me" button to your website
Phone Redirect Service
Snom DECT Support
Yealink T3 Series phones
Kuando Busy Light Support
Push Notifications for missed calls, Voicemail- and Fax- messages
Permanent Call Recording improvements
Improvements in MS Teams Integreation
Custom speed dials and BLFs for Communi5's soft clients
1:1 Screen Sharing and 1:1 Video in Softclients