With Release 7.4. the Communi5 Voice Application Server creates the complete integration of telephony and video functions for business customers:
A new generation of clients, additional system components for more flexibility, full use of the technical possibilities in the integration with MS Teams and a comprehensive solution for monitoring the complete system.
In this way, Communi5 covers your customers' communication needs with a single, homogeneous platform: the Voice Application Server.
WebControl Client – simplicity and functionality perfectly combined
WebControl – and its little brother WebMeet – bring integrated business communication to your customers. As a progressive WebApp (PWA) based on WebRTC, WebControl contains all the functions that already characterize the DesktopControl client. In addition, the advantages of websites and apps are combined in a platform-independent solution.
Just enter the URL in the browser and start!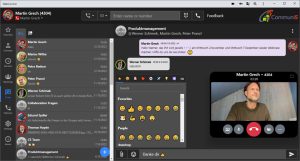 With the new additional service "Meetings", a focus and a matrix view can now be used. In total, up to 30 participants are supported in a conference, which can be established seamlessly from a phone call.
Highlights
No installation necessary
Full-featured web-based client
Telephone and conference functions combined in one client
Optimization of MS365 Presence Synchronization – bidirectional!
The synchronization of the availability status is an essential feature of the integration of the Communi5 Voice Application Server with MS Teams since release 7.2.
However, practical experience with our customers has shown that Microsoft's notification is not always reliable when a user's presence status changes. Communi5 has built in numerous mechanisms to solve or successfully work around these problems. Presence is generally managed on user level, presence profiles can be created and flexibly controlled via presence mapping.
Ultimately, this results in greatly improved reliability of presence information, in both directions:
From MS Teams to Communi5 user: synchronization of Presence status with Dialog-Info ("in conversation", "in a presentation"), Outlook Calendar (e.g. "busy") and of course Presence in the classical sense (e.g. "absent").
From Communi5 user to MS Teams: synchronization of presence status with dialog info ("in conversation"), and classic presence (e.g. "available", "absent").
Alarming and Monitoring
In order to keep an even better eye on your system, Communi5 offers a specialized solution for alerting and monitoring with Release 7.4. Based on Grafana, dashboards have been developed that allow you to monitor specific components of the Voice Application Server.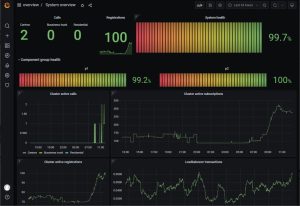 Communi5 offers a free "Basic" license, as well as a "Premium" variant that includes additional dashboard functions, license monitoring, flexibly configurable alerting, and monitoring of 3rd party components such as media servers and session border controllers.
All highlights at a glance:
Team communication with screen sharing and of course audio/video with up to 30 participants. New are especially the focus and matrix view with support for multiple video streams
WebControl: the new soft client based on WebRTC
Optimized, bidirectional MS365 Presence synchronization
New alarming and monitoring