Digitalization has been on the march for some time now and will not be stopped. A major issue in this context is the move from classic ISDN telephony to the use of IP networks. The advantages are so great that almost all telephone connections in Europe will have changed to All IP by the end of this year.
Our solution enables network providers to put together a competitive offering for the residential market. With Consumer VoIP, network providers are in possession of a failsafe IP telephony solution that can be integrated seamlessly into existing PBX infrastructures and configured and managed easily via a web browser.
The integrated voicemail box service, web portal for personal data and features management, and generous interface support for connection to existing carrier infrastructure, put Consumer VoIP in a class of its own in the residential segment.
And not to be forgotten – Consumer VoIP grows with the company needs, and adapts easily to current market requirements. It is a fully fledged replacement for analog and ISDN telephony, and offers a wide range of value-added services (CLIR, twin number, MSN).
Paving the way: ISDN replacement and IP migration with Communi5
Most of us have become so used to ISDN functions, such as forwarding calls or having calls forwarded to mobile phones, that we do not want to do without the convenience these services provide.
ISDN lines cost a lot of money, so IP telephony offers attract a lot of attention.
However, they often turn out to be less economical than they appear because all the terminal devices have to be replaced. This fact often puts off companies from taking this step.
Addressing this issue, Communi5 developed an ISDN migration solution that allows users to combine the familiar ISDN functions of their supposedly old devices with the advantages of the IP world. They get to use a centrally-managed and provisioned PBX system that is quick and easy to install. This is definitely the simplest way to migrate to IP.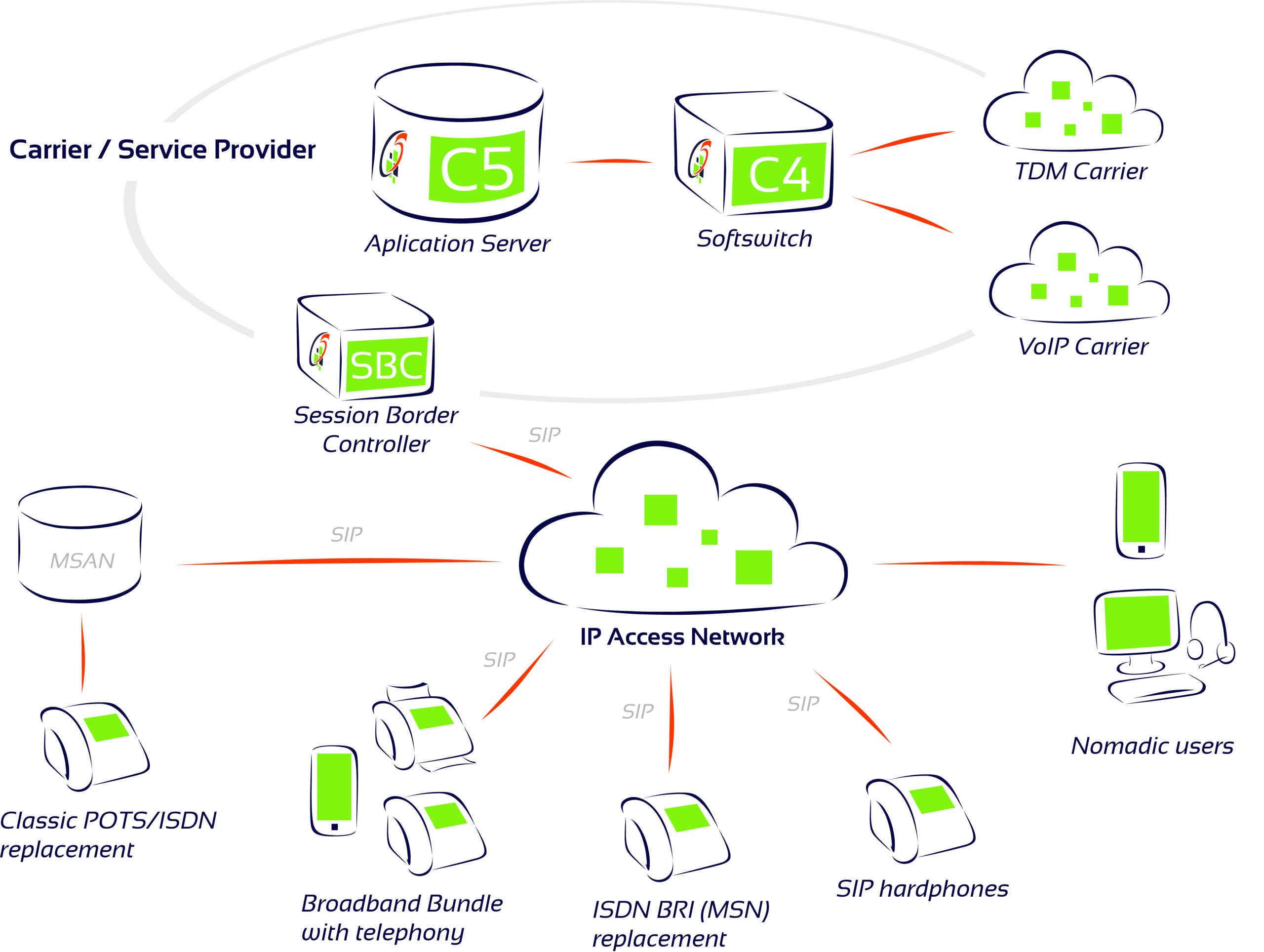 Integrating mobile phones and users
By enabling users to be reachable on an IP softphone on their PCs (DesktopControl) as well as on their mobiles (MobileControl), service providers can increase their monthly ARPU (average revenue per user)
Advantages for users:
▪ They can be reached on their landline number even when they are on the go
▪ They save money with free calls to their home country (VoIP calls over WiFi)
▪ Their landline number is transmitted as their caller ID even when they are on the go
More Solutions
More Products
More Solutions
More Products