Mobile services are the backbone of today's communication, allowing complete location-independence to users of voice and UMS services. They no longer have to be at their desks all the time, and can decide when and for whom they are reachable over their company landline number.
▪ An intelligent app (Softclients) that transforms the smartphone into an extension
▪ Available for IP Centrex and Value-Added Trunking
▪ Available for iOS and Android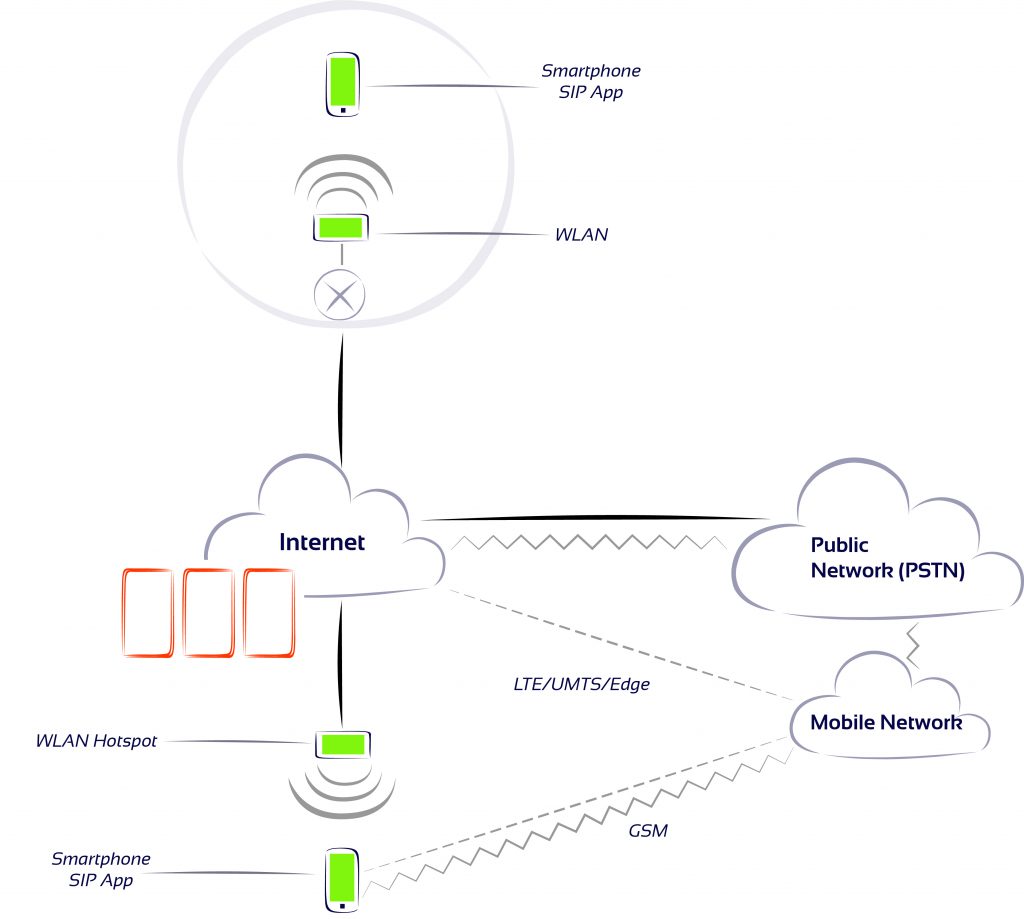 Native integration of a mobile phone without a client (Mobile PBX)
Mobile PBX, an expansion of the cloud PBX, enables you to transform any mobile phone into an extension.
Features:
▪ Mobile phone becomes a PBX terminal device
▪ Landline number is used for incoming and outgoing calls
▪ The mobile can dial extension numbers like a PBX phone
▪ BLF information provided for outgoing calls from the mobile
▪ Additional features when combined with the MobileControl app (UMS box, rich presence, etc.)
For existing telephone systems
The system is designed to suit business customers, allowing service providers to offer mobile services to standard business customers who have a telephone system (SIP trunking):
Users connected to an existing system can use the softclients and smartphone apps. All that is required is that the PBX is connected over a business trunk (see Value Added Trunking /Sip Trunking 2.0).
Value-added services
▪ One Number Service – location-independent business communication over the main number
This puts an end to the chaos of having too many numbers. The company main number + individual extension number becomes the central point of contact for every staff member, regardless of where they are at any given moment.
▪ Increased productivity
The mobile services provide access to call lists, voice and fax messages, at all times and from all locations. And availability can be controlled using the Rich Presence feature.
▪ Ideal solution for every work situation
We offer the perfect solution to support every type of modern workday, be it home office with a headset, sitting at a desk using an IP desk phone, or on the go using a mobile. And all that with uniform usability across every platform.
▪ Modern, easy-to-use, and secure
Mobile Services are the answer to your staff requests for modern equipment. They also satisfy the demand of your IT department for simple rollout and operation, as well as uncompromised security.
That might sound impossible, but Mobile Services can do it:
▪ BYOD increases staff satisfaction because it allows them to use their own devices within the company environment
▪ Simplest possible rollout thanks to auto-provisioning
▪ Encryption during configuration and communication guarantees data security
Mobile services for residential customers
Mobile services provide location-independent use of the voice and UMS services, ideal for private customers because they support the paradigm shift to the work environment:
The advantages of COMMUNI5 Mobile Services are obvious:
▪ Never miss another call – even when they only have their mobile phone to hand, users are still reachable over their landline number.
▪ Cheap calls while abroad – using their own landline number for calls to the home country saves money.
▪ The service provider can increase customer binding by offering value-added services.
More Solutions
More Products
More Solutions
More Products